Unique Homemade Gift Ideas
Preview: These unique homemade gift ideas for Christmas will help you make the perfect gift for that special someone.
A homemade gift can really show someone how much you care. I have rounded up some of the best homemade gifts to give to family and friends for Christmas or birthdays.
Affiliate Disclosure: Please note that some of the links in this article may be affiliate links and I may receive a small commission if you purchase something through a link. It will not change your cost. As an Amazon Associate, I earn from qualifying purchases. For more information, see my disclosures page.)
Bath & Body Products
Reuseable Cotton Rounds
Homemade reuseable cotton rounds make a very eco-friendly gift. They are perfect for removing makeup and are sure to please anyone that hates using disposable products.
Magnesium Lotion
This magnesium lotion from The Modest Mom would be the perfect gift for the friend that has trouble sleeping. I have been using magnesium lotion for several years now, and it definitely helps. The magnesium lotion would be perfect to pair with a box of sleepytime tea and either a homemade or store-bought sleep mask.
Spa Gift Sets
I also have several diy gifts on my blog. You could make a nice spa gift set by making several items such as lip balm, sugar scrub, and whipped body butter or lotion bars.
Many of these homemade gifts use the same ingredients so you can make multiple things from the ingredients you purchase. Plus, each recipe makes more than one gift so you can give these to several friends and family members.
Other spa related items you could add to a gift set include a homemade candle and a bar of homemade soap.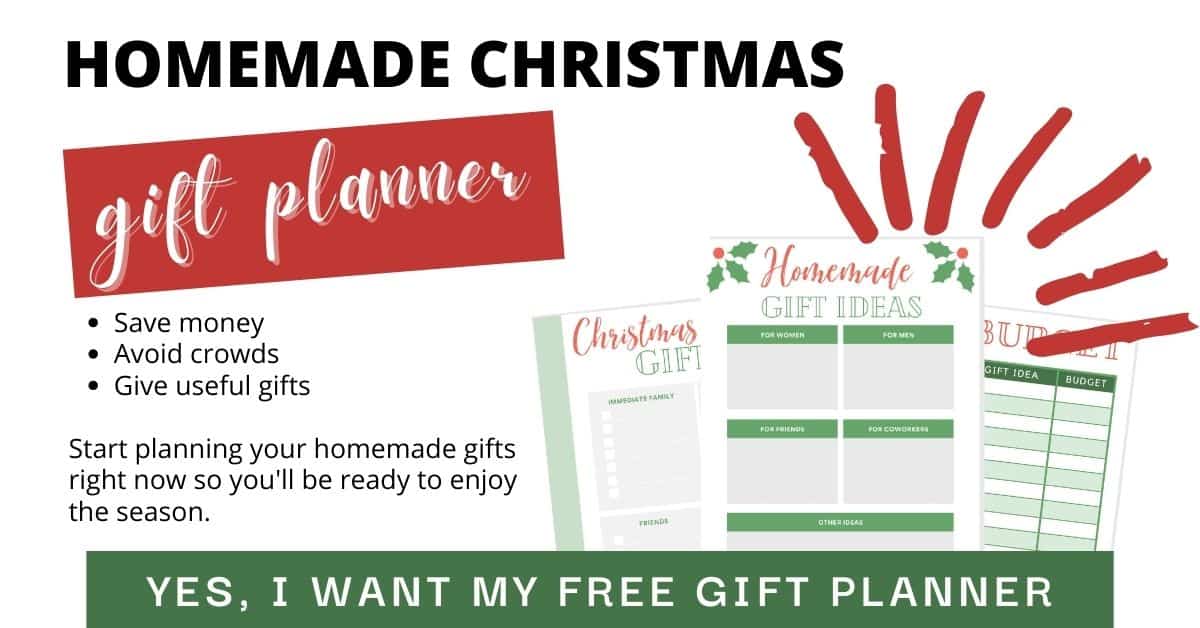 Homemade Gifts for Men
Men are notoriously difficult to buy for. So here are a couple unique homemade gift ideas that the men are sure to love.
Flannel Scarf
This easy flannel scarf is so nice and very inexpensive to make. With flannel being so popular right now, you are sure to find some material that would suit your recipient. And while this is a gift for men, I don't see any reason that most women wouldn't enjoy a homemade flannel scarf either.
Mustache Wax
For the men with facial hair, a tube of mustache wax would make a lovely homemade gift or stocking stuffer.
Requiring only two ingredients, this is so simple to mix up. (My husband makes it himself now!) This "recipe" uses some of the same ingredients as the lip balm and lotion bars so you could make a men's spa gift bag too!
Homemade Food Gift Ideas
I love giving (and receiving) homemade food gifts. They don't contribute to clutter and many times, can make the recipient's life easier by having something on hand for a quick supper, appetizer, or dessert.
Bread & Butter
A loaf of homemade bread plus apple butter all wrapped up in a flour sack towel would make a great gift for almost anyone.
The apple butter recipe looks so amazing I plan on making it and keeping some for myself! The post from Money Saving Mom also includes cute printable labels to attach to the jars. And as a bonus, your house will smell amazing while baking the bread and cooking the apple butter!
Or make up several pans of homemade cinnamon rolls using this sweet roll recipe. Who wouldn't want to have a nice pan of rolls tucked in their freezer to serve on Christmas morning?
Trail Mix
Another simple homemade food gift is trail mix. I have gifted trail mix many times myself. I love that you can customize each mix to the person you are giving it to.
You can make it gluten-free, nut-free, or sugar-free, based on any dietary restrictions you may need to work around. This is also a great gift for kids to help make. Even children as young as two can help stir the trail mix together and put the ingredients in the bags.
Homemade Vinegar
This homemade vinegar infusion is such a unique gift idea for the cook or gourmet foodie. With lots of flavoring ideas, there is sure to be something for everyone.
It would also be super easy to make a sampler of all four different varieties. But start these soon. The flavorings need to infuse the vinegar for at least a week.
This is also the perfect food gift for someone that loves salads or is trying to eat healthier. You aren't derailing their diet with sweets.
Peppermint Mocha Kit
This homemade peppermint mocha gift basket from An Oregon Cottage is perfect for the coffee lover. This makes a great hostess gift for any occasion and would even make a lovely wedding gift.
The post also contains cute printable labels to make this project even easier. This basket would also be good for hot chocolate lovers too!
Chocolate Covered Cherries
A box of these delicious homemade chocolate-covered cherries is sure to be a huge hit with anyone. I make some every year for Christmas and Valentine's Day and they disappear unbelievably fast.
One thing I love about these cherries is that they are best if you make them a couple of weeks ahead of time. This means you aren't scrambling to make your food gifts right before Christmas.
Christmas Cards + Gift
Wanting to give a Christmas card but step it up a notch? This hot chocolate gift card or this microwave popcorn card would be a cute way to give a card to someone with a little more pizzazz. These also make great gifts for children to pass out to their class.
More Homemade Food Gift Ideas
If you are looking for more homemade food gifts, the book, Taste of Home Handmade Food Gifts has some great ideas. You'll also find many more ideas in my Homemade Gifts From The Kitchen post.
Useful gifts
Nowadays it seems like there are more and more people who prefer useful gifts. With the trend towards downsizing and minimalism, people often don't want to gift items that are going to create clutter. Here are some useful gift ideas that are sure to be a hit this holiday.
Popcorn Gift Basket
This microwave popcorn bag would be a great gift idea for teens, tweens, or college students. Gift the homemade popcorn bag with a container of popcorn, popcorn salt or seasoning, some soda, and a movie and you've got a great gift for someone who seems to have everything. Combine everything in a cute basket for an extra special gift.
Flax Seed Heating Bags
Flax Seed Heating Bags are such a great gift idea for people that are always cold. They are also extremely useful for people that get lots of aches and pains. You pop it in the microwave for a minute or two and it provides instant warmth for quite a while.
They can be reused over and over. We've had one of these for years (like 20+) and it is still a coveted item in our home. The tutorial in this post also has the cute cards that you can print to give with your homemade gift.
Handmade Apron
A handmade apron would be a lovely gift for Mom or Grandma. This stenciled Christmas tree apron using your kid's handprints is not only a practical gift, but an extra special one too! My Mom still uses hers each Christmas and I gifted it to her 10 years ago!
Produce Bags
These burlap and fabric produce bags are soooo cute and the perfect way to store garlic, onions, and potatoes in your pantry.
However, there are so many other uses for them and they would be perfect to store do-dads on your kitchen counter too. They would also be a great way to give gift cards so you get a two-in-one gift.
Birdseed Ornaments
These easy birdseed ornaments are a choice for the bird watcher on your gift list. They are simple enough for kids to make too!
Decor
Holli at Holli's Helpful Hints has a whole post full of diy Christmas gift ideas that are perfect to make if you are the artsy type. Her shadow snow scenes are gorgeous and are sure to delight anyone on your gift list.
For those that are comfortable working with wood, this 4 x 4 Snowman is an adorable gift to give for Christmas. You can make several out of one 4 x 4 post so they can be an economical gift as well. And since it's a snowman (as opposed to a Santa Claus) your recipient can leave their snowman sitting out all winter.
Gifting Money
This diy Christmas snowball gift is a great way to give money. I always struggle with unique ways to gift money and I love that this is such a creative idea.
You can also choose to add a few other trinket gifts in the snowball which makes it a super fun idea for gifting money to teens and tweens. I hope my niece and nephew don't read this as that is how they are getting their money this year!
So with a little planning, you can find some really creative and unique homemade gift ideas. If you have given or received a homemade gift that you loved or if you have any other unique homemade gift ideas, I would love for you to leave a comment and let me know what that gift was.