If you are giving homemade gifts this year, giving them in Mason jars makes for a wonderfully vintage gift. To dress up the jars, you can make fabric mason jar covers for the lids. Don't know how to make the covers? I'll show you in this step-by-step tutorial.
If you are looking for gift ideas to give in the Mason jars, check out my ebook with over 30 gift ideas, some that don't even require cooking.
(Please note that some of the links in this article may be affiliate links and I may receive a small commission if you purchase something through a link. It will not change your cost. As an Amazon Associate, I earn from qualifying purchases. For more information, check out my disclosures page.)
These jar lid covers will fit over the Mason jar lid and rings. But if the item isn't canned, you can also use the plastic lids to close the jar. These covers will work for both types of lids, though I do find the lid/ring combo a bit easier.
How to Make Fabric Mason Jar Covers
Making fabric Mason jar covers is actually really easy. But you do need a few supplies to help make the job easier.
fabric
pinking shears
rubber bands
ribbon
gift tags
pen and pencil or fabric marker
Let's explain these items in a bit more detail.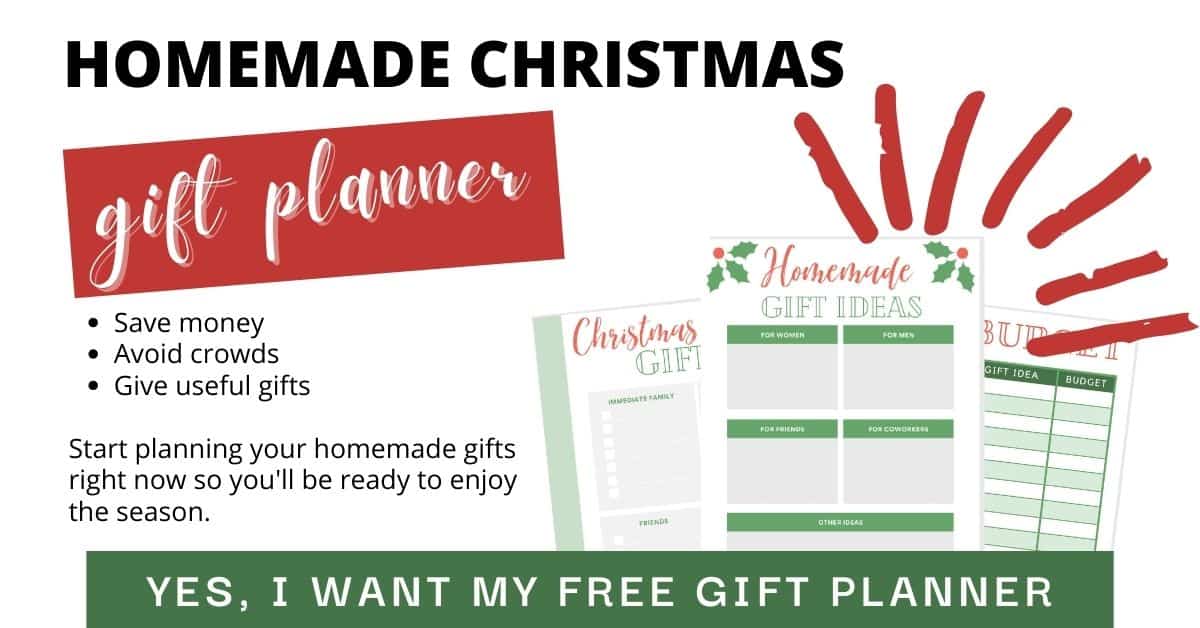 Fabric
Obviously you need fabric. There are many different types you can use. Cotton, burlap, lace, old sheets & pillowcases, and even flannel from flannel shirts will work well.
When choosing the fabric you don't want to use something too thick that will be difficult to bend over the jar lid. This is a great way to use up a random assortment of fabric scraps you may have laying around.
If you are purchasing fabric, you can buy "fat quarters" which will easily do 6 or so jar covers. You can choose Christmas fabric to make the jars more festive or you can choose material that matches the ingredients in the jar. In a pinch, you can use several layers of tissue paper.
Pinking Shears
While pinking shears aren't a requirement, they will make the job much easier. These shears cut material in a zigzag pattern that helps keep the fabric from unraveling.
Rubber Bands
Rubber bands are very helpful to keep the fabric in place while tying the ribbon on. I've done it without them and using a few rubber bands makes it so much easier.
I explain how to cover the jars using only one rubber band or how to cover them while leaving the rubber band in place. I've even included a picture to make it super easy.
Ribbon
You need something to tie a pretty bow on the jar. You can use ribbon, twine, jute, even yarn. Thinner materials will be easier to tie around the jar. I don't recommend using anything over 1/2″ wide, but my preferred size is 3/8-inch ribbon.
Gift Tags
Of course, you will want to include a gift tag on the jar so the recipient will know what's in the jar and who gifted it to them. Need gift tags? You can purchase them on Amazon or you can get my Christmas gift tags for just $5 and never have to buy them again.
I like to punch a hole in the gift tag and attach it with the ribbon to the Mason jar but you can also tape them directly to the jar with packing tape.
Pen/Pencil/ or Fabric Marker
You will use a pen or pencil to trace the circles onto the fabric. A fabric marker will work great if you happen to have one.
How to Make Your Fabric Mason Jar Covers
Once you have chosen your fabric, iron it to remove any wrinkles. This will really go a long way towards making your jars look professional.
Next, you need to cut out circles of material for your jars. I recommend using a 6.5-inch circle for regular mouth Mason jars and a 7 to 7.5-inch circle for wide mouth jars.
If you are using really big jars (quart or half-gallon) you may want to use 8″ circles. However, these measurements are just suggestions. You can adjust these measurements if you like more or less fabric around your jars.
Find a plate or some other circular object that is about the size you need. Trace your object onto the back side of the material. Cut out the circles with pinking shears.
Place the fabric circle over the lid of the sealed jar. I prefer to use either the plastic jar lids (if not giving a home-canned item) or the lid plus ring when gifting items. This ensures the recipient has a way to close the jar after opening, especially since many people don't have extra Mason jar rings around the house.
Use a rubber band to hold the fabric in place. (See picture above.) Tie the ribbon around the top of the jar. Then carefully slide the rubber band off the bottom of the jar.
Alternatively, you can place the rubber band around the jar lid, and tie the ribbon over the rubber band to hide it and just gift the jar with the rubber band included. This works best if you are using a slightly wider ribbon as opposed to jute, twine, or yarn.
Things to Gift in Mason Jars
Are you still looking for things to give as gifts in Mason jars? Home-canned goods are always a popular option. But if canning isn't your thing, you can make apple butter or jams and jellies to store in the refrigerator. (This would make a really nice gift with a loaf of homemade bread.)
This post also contains lots of other homemade gift ideas that would be suitable for giving in Mason jars.
Need even more ideas? I wrote an entire book on Mason Jar Gifts. It includes over 30 gift ideas, including the pancake mix above. Some of the gifts don't even require cooking. There are gift ideas for adults, teens, and kids in the book. Every gift idea even comes with a matching gift tag you can print. Check it out right here for more information.
And there you have it! Easy fabric Mason jar covers. Let me know what you think. Do you still give homemade gifts?
Related Posts