If you're looking for some unique Christmas gift basket ideas, I've got you covered. I've already shared several DIY gift ideas for Christmas – candles, lotion bars, soap, and lip balm if you like to make homemade gifts.
But I wanted to share some themed Christmas gift baskets that you can put together yourself. Most of these ideas don't cost too much and can be scaled up or down, depending on how much you are willing to spend.
And if you need several gifts, you can save some money by buying in bulk and splitting the items between the baskets.
Many of these items make great gifts for hard to buy for people. So whether you need co-worker gifts, teacher gift ideas, or just something to please that hard-to-buy-for man in your life, these Christmas gift basket ideas will have you covered.
(Please note that some of the links in this article may be affiliate links and I may receive a small commission if you purchase something through a link. It will not change your cost. As an Amazon Associate, I earn from qualifying purchases. For more information, check out my disclosures page.)
I love giving gift baskets because you can pick and choose meaningful items to add for each recipient. Gift baskets usually require some thought about what the recipient would like.
You can make up the same basket for several different people, while still customizing it for each individual's tastes.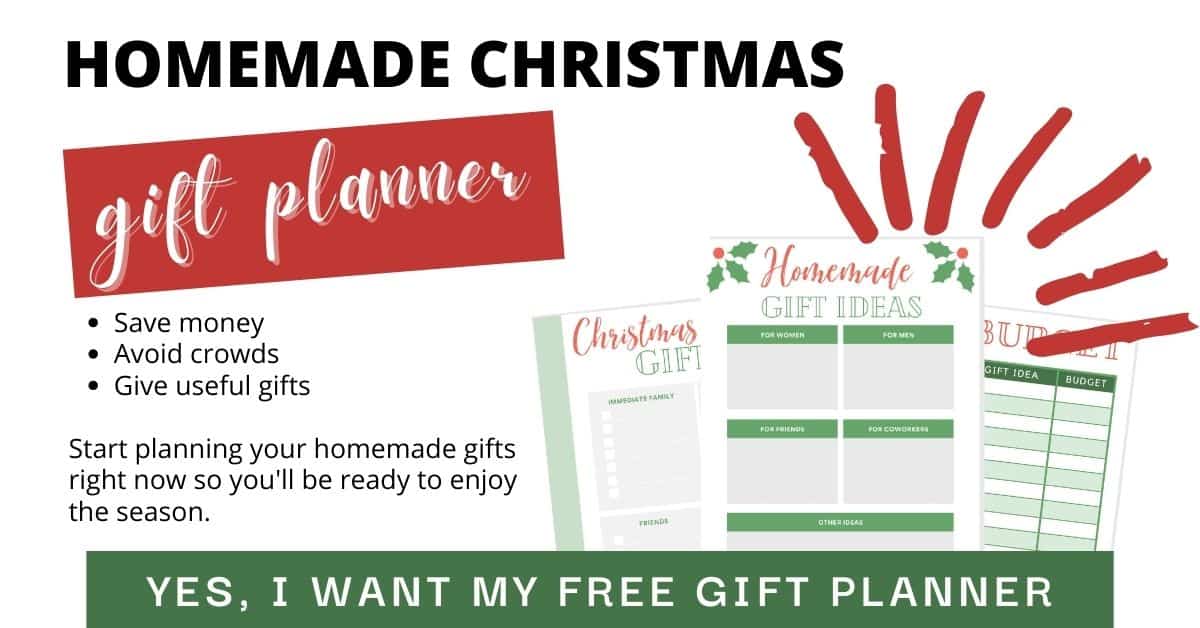 Christmas Gift Basket Ideas
I have divided the list into three categories – Christmas gift basket ideas for adults, food gifts, and gift baskets suitable for the entire family. I have also included several other neat gift basket ideas that I found online.
Food Gift Basket Ideas
Bread & Jam Basket
A loaf of fresh (homemade or store-bought) bread and some gourmet jam or honey would make an easy (and delicious) gift.
You can add a small cutting board and a bread knife or a cute spreader to make the gift even more special. Wrap everything up in a stenciled flour sack towel to complete the look.
An Italian Basket
Spaghetti noodles, sauce, a loaf of Italian bread, and a good bottle of wine make an adorable basket. Add a cute towel and a few wooden spoons for an extra special touch.
Coffee Lovers Basket
Fill the basket with some gourmet coffee, several kinds of coffee flavorings, and some scones or cookies to go with the coffee.
Add an adorable mug and you have the perfect gift for the coffee lover on your gift list. You could also make a tea lover's basket with the same ingredients.
Homemade Cookie Dough
Either homemade slice and bake cookies or cookie dough balls would work well for a cookie dough gift basket. A new cookie sheet and a potholder would be a nice addition to this basket.
This gift will need to be refrigerated or frozen so be sure you have a way to keep it cold until gifting. You can also do a layered cookie mix in a jar if you prefer. This looks like a nice recipe to try.
Don't forget to include the baking instructions for your choosen cookie recipe.
Chocolate Gift Basket
For the chocolate lover, fill a gift basket with an assortment of gourmet chocolates. Add a few chocolate cookies, some coffee, or a good book.
To really take this gift over the top, make a few homemade chocolate-covered cherries or chocolate-covered dehydrated fruit. Your gift recipient is sure to appreciate the extra special effort.
Ice Cream Kit
I've given ice cream kits before and they've been a big hit. Combine chocolate and/or caramel syrup, sprinkles, maraschino cherries, gummy bears or worms (kids love these) and any other ice cream toppings you can think of in a cute basket or galvanized tub.
If you want to, you can also include a gift certificate to a local store for the ice cream. This gift idea is sure to be a hit with the kids as well!
Snack Basket
For teenage boys, try creating a snack gift basket. (My Mom has done this for my kids for their birthdays too! They love it!)
Buy individually wrapped packages of their favorite snacks and drinks and combine them in a large basket.
If you don't want to spend the money on a basket, you can also use a cardboard box wrapped in pretty paper. (Teenage boys don't care much for baskets.) This makes a much-appreciated gift for college students too!
A Christmas Breakfast Basket
If you enjoy cooking, make pans of cinnamon rolls to gift for Christmas. Add some fruits like apples or oranges, a package of coffee or tea, and maybe even a package of shelf-stable pre-cooked bacon for a Christmas gift basket the recipient will remember long after the holidays are gone.
Don't forget to include freezing and re-heating directions for the cinnamon rolls.
S'mores Gift Basket
When making a s'mores gift basket, include everything needed to make s'mores – marshmallows, graham crackers, chocolate bars, and forks to roast the marshmallows on.
Some baby wipes are a nice addition to this basket because smores are messy and I always forget them by the campfire.
For Gift Baskets for Adults
Spa Kit
If you really want to go all out, make a spa gift basket. Choose from soap, candles, lip balm, sugar scrub, and lotion bars that you scent the same way.
Placed in a cute basket with a bow (or bagged as above) this makes a great (useful) gift for almost anyone – men women, teachers, friends, co-workers, etc.
Gardener's Basket
There are so many items you could include in a gardening basket for your favorite gardener. Items like a new pair of gardening gloves, seed packets, a new trowel, would be appropriate.
You could also include a bar of scrubby soap, a lotion bar, some plant netting, plant markers, cups to start seeds in, and maybe even a potted herb or two.
Grill Kit
For the man that likes to grill, put together a gift basket with grill tongs, potholders, and an assortment of BBQ spice rubs or marinades. The spice mixes from this meal prep chicken would work exceptionally well if you wanted to make your own.
A lighter or wood chips would also be appropriate depending on the type of grill the recipient owns.
Car Care Kit
A car care kit would be a great gift for the man (or woman) that likes to keep a neat car. Microfiber towels, car wash, a tire brush, and other assorted cleaners would all be appropriate.
Tuck everything inside a 5-gallon bucket and you've got the perfect gift for the older teenager that just started driving.
Gift Basket Ideas for the Entire Family
Movie Night
For a movie night gift basket, include several bags of microwave popcorn, a movie or two, several cans or bottles of soda, and a few "movie-sized" bars of candy.
This makes an instant at-home movie night perfect for the family that likes to relax at home on the couch.
Art Supplies Basket
An art supply basket is perfect for kids from toddlers on up. Fill a basket or tote with crayons, paint, coloring books, scissors, paper, stickers, and any other fun things you can think of.
Game Night Basket
Pick a new game for the family and combine it with some fun snacks and drinks for a gift idea the whole family will love.
If you know the family well, you can choose their favorite sodas, add some popcorn or chips and a pack or two cookies. If you're lucky, maybe the family will invite you to join them for a game night.
Other Christmas Gift Basket Ideas From Around The Web
Jami from An Oregon Cottage has a round-up of lots of gift basket ideas from an ice cream basket, a BBQ basket, and even a cleaning basket which would all make great gifts.
HGTV has a list of 8 DIY gift baskets for food lovers. It includes basket ideas for the baker, the entertainer, and a basket of kitchen essentials.
The Busy Budgeter has several unique gift basket ideas including a Sunshine Gift Basket full of yellow products, a craft gift basket, and a fairy garden in a tin.
Do you have any other gift basket ideas? If so, leave a comment and let me know. I would love to update the post with even more ideas.