Best Heirloom Vegetables for Beginners
Heirloom vegetables are often considered the holy grail of gardening. They often taste better than their hybrid counterparts which is one of the reasons so many people are interested in growing them. If you are new to growing heirlooms these are some of the best heirloom vegetables for beginners to grow.
Why Grow Heirloom Vegetables
Many people choose heirloom vegetables for different reasons. The taste of heirlooms is often superior to hybrid varieties. The flavors are often bolder and there are flavor differences between varieties.
Another reason to grow heirloom vegetables is that the seeds can be saved from year to year. So instead of purchasing seeds each year, you can save the best tomato, for instance, harvest the seeds, and replant them next year. No need to spend money on a seed order every year.
You can find locally adapted varieties that perform well in your area. And many times you can find heirloom varieties that are a little more unique than your run-of-the-mill vegetables you can purchase from your grocery store.
Many heirlooms are actually more nutritious than their hybrid counterparts. They contain more vitamins, minerals, and antioxidants than hybrids.
Sometimes people grow them purely for nostalgia. If your family has grown a variety for generations, it makes gardeners feel good to carry on the tradition.
Heirloom vs. Hybrid: What's the Difference?
First, let's define heirloom. An heirloom vegetable is a variety in which the seeds have been handed down for many generations. They are open-pollinated varieties so the seeds can be kept from year to year and will grow the same plant each year.
Hybrids, on the other hand, are bred to produce consistent fruit. The produce from hybrids is generally more reliable and varies less in size than heirlooms.
Hybrids are often easier for beginning gardeners to grow as many varieties have been bred to be disease resistant. They generally produce more consistent yields as well.
There is nothing wrong with growing hybrid varieties. In fact, I often recommend them for beginners and I still grow many hybrid varieties myself!
However, the taste can be lacking. Many hybrids were bred to be able to withstand being transported across the country, not for their flavor.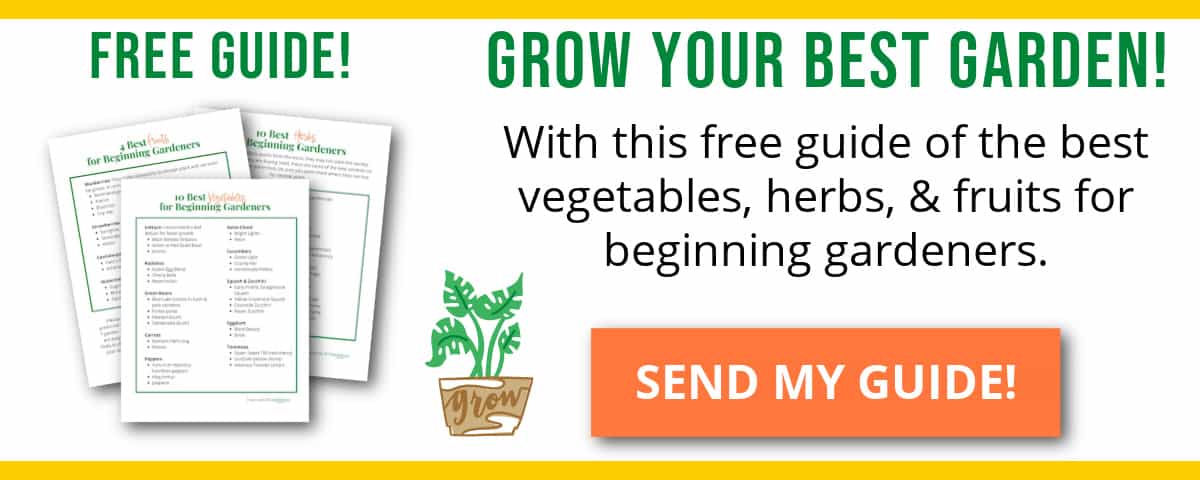 Hybrids vs. GMO's
I also want to take a minute to be sure you know that hybrids are not the same as GMO's. GMO crops are made using gene-splicing from other plants or animals. GMO's can only be created in a laboratory.
Hybrids are created by cross-pollinating different varieties of the same plant. This occurs in nature all the time. When creating hybrids, the breeder usually tries to select the best traits of each variety and breed it into a new, superior variety.
The majority of transplants you find to purchase at the big box stores are hybrids. If you want to find heirloom plants, check local, independent nurseries and farm stores near you.
Otherwise, you may have to start your own. It's relatively easy to grow heirloom beans and peas since you can plant the seeds directly in the ground.
However, for plants that need a longer growing season like tomatoes and peppers, you will need to start the seeds indoors. (Another reason I often recommend hybrids for beginners.) Seed starting isn't difficult, but you do need to have the right equipment for success.
Read: How to Start Vegetables From Seed
Beginning Gardener? Try Heirlooms & Hybrids
And if you are a beginning gardener, there is no reason you can't try a few heirloom vegetables and a few hybrids as long as you have the space in your garden for both. I still grow a mix of hybrids and heirlooms every year.
Please note that the definition of how long it takes a vegetable to be considered an heirloom variety varies depending on who you talk to.
Many sources state that the vegetables must have been around for over 50 years. Others use a shorter or longer time frame.
However, all heirloom vegetables are open-pollinated meaning you can save the seeds from year to year and the plants you grow will be true to the original.
Where to Find Heirloom Seeds & Plants
Many seed catalogs contain heirlooms seeds. And while there is nothing wrong with ordering them from a catalog, you might find varieties better suited for your area if you look locally.
I would start with your local nursery or garden center. They often have varieties that are bred to be adapted for your particular area.
Sometimes libraries have seed exchange programs so check with your local branch to see what they offer. And farmer's markets will often have seeds or heirloom plants for sale during the growing season in your area.
If you have friends or family that grow gardens, check with them for heirloom seeds or even extra plants. Many times gardeners start too many seeds in case some don't germinate.
Most will be happy to either sell them to you cheaply or give them away. They would much rather do that than throw them out! I grow extras every year for this very reason and love giving the excess away.
Best Heirloom Vegetables for Beginners
These 10 vegetables are generally the best heirloom vegetables for beginners to grow. Many of these are also suitable for container gardens. I've included many recommended varieties that should be easy to locate no matter where you live.
tomatoes
green beans
carrots
peppers
peas
summer squash & zucchini
radishes
lettuce
cucumbers
cowpeas
Heirloom Tomatoes
Of course, when people think heirloom vegetables, people automatically think tomatoes. And why not? Tomatoes are one of the best heirloom vegetables for beginners to grow.
There are so many unique and flavorful varieties that you can't find anywhere else, except maybe your farmer's market. And by growing them yourself, you aren't limited to just what the farmer's market carries.
Jubilee Tomato – Sometimes called Golden Jubilee this small tomato is a dark yellow, almost orange variety. It is an indeterminate tomato so it will produce all summer long. This heirloom performed exceptionally well in my garden producing loads of tomatoes.
Box Car Willie – An unusual name for a tomato but this variety is excellent for many purposes. It is great eaten raw on sandwiches or salads, but also performs well in sauces. It is an indeterminate variety that can be canned or frozen too.
Mortgage Lifter – Another indeterminate variety that produces large, meaty fruit with a slightly sweet flavor. While the tomatoes certainly aren't the prettiest, the plants produce an abundance of delicious tomatoes all season long.
Costoluto Genovese – An heirloom from Italy that produces ribbed tomatoes even in hot weather. However, it still performs well in cooler areas too.
Brandywine – A very popular heirloom variety due to its exceptional flavor. One of the first varieties most people think of when they think "heirloom tomato."
Cherokee Purple – A purple variety with green shoulders that produces slightly flattened, large tomatoes. This heavy producer will reward you with lots of tomatoes all summer long.
Yellow Pear – This small yellow variety is shaped just like a pear. It produces loads of small, firm fruit throughout the summer until frost.
San Marzano – An indeterminate paste tomato which is considered the perfect tomato for canning.
Amish Paste – Another indeterminate variety that is sweeter than other paste tomatoes. Amish Paste has meaty flesh and few seeds making it an ideal candidate for turning into sauces to be canned.
Heirloom Green Beans
Green beans are such an easy vegetable to grow, I always wonder why more people don't grow them. These are some excellent heirloom varieties for the new gardener.
Dragon Tongue – A multipurpose bean that can be harvested and eaten fresh or allowed to fully mature and eaten as dried beans. The beans are a mottled lime green with purple stripes making it an unusual variety for the garden too.
Kentucky Wonder– A dual purpose pole bean that can be eaten fresh or left to dry to use as a shell bean. The pods grow to about 9″ long and are stringless.
Jade – This bean outperformed any other variety in my garden last year. Even with hot weather, the blooms didn't fall off. It kept producing beans all summer long which is rare for a bush variety. A new favorite.
Blue Lake – Of course, I would be remiss not to mention this old-timey favorite. You can find heirloom bush beans and pole beans, depending on which you prefer to grow.
Heirloom Carrots
Did you know that carrots come in more colors than just orange? Its, true. You can grow carrots of many different colors like red, purple, yellow, and white. And many of those beautiful, colorful carrots are actually heirloom varieties.
If you don't want to purchase individual packs of seeds of the colorful carrots, look for a pack often called Rainbow carrots. Many times all the seeds in the packets are heirlooms but double-check the varieties to be sure if you only want to grow heirloom vegetables.
Solar Yellow– A lemon yellow carrot that can be enjoyed cooked or raw. Great variety for in-the-ground storage too.
Thumbelina– An small, round orange carrot great for heavy soils. This variety resists splitting and is great roasted.
Atomic Red – A red carrot with a sweet flavor.
Nantes – A short dark orange variety that dates back to the 1850's.
Lunar White – This white variety has green shoulders and grows 6-8″ long. It looks like a parsnip but the taste is all carrot flavor.
Cosmic Purple – A deep purple carrot on the outside, it is orange on the inside. A beautiful carrot for a relish tray.
Heirloom Peppers
Sweet Banana – This heirloom pepper comes from Hungary and the fruits are shaped like bananas. They turn red late in the season.
Big Jim – These large medium hot fruits are perfect for chile rellenos. Each plant produces lots of peppers too.
Ancho – A poblano type pepper that has thick, shiny green flesh.
California Wonder – A large bell pepper that ripens from green to deep red when fully mature.
Heirloom Peas
Mammoth Melting Sugar – This snow pea is a prolific producer of the flat, sweet pods used in Asian cuisine. This variety grows to 5 feet tall so it will need staking. The pods are stringless.
Lincoln – This variety of shelling pea is one of the best for freezing. The vines are compact and will produce peas even as the weather warms up.
Alaska – This shelling pea is extra early. We often plant it in February in our Zone 7 garden. The plants grow to about 4 feet tall and do best with staking or trellising.
Sugar Snap – This is a sweet snap pea that freezes well. The vines grow tall so they will need staking.
Heirloom Summer Squash & Zucchini
Early Prolific Straightneck – I grow this variety every year. Oddly enough, I did not realize it was an heirloom. This squash produces vigorously in my garden every year until the squash borers ruin my crop.
Black Beauty Zucchini – A dark green zucchini that has a firm, flavorful interior. One of my favorites to grow as it produces quite well.
Yellow Crookneck – This is a Native American squash oftentimes with a warty rind, especially if allowed to get large. They are best harvested at 4-5″. This variety has the classic yellow squash shape.
Cocozelle Zucchini – An bush Italian heirloom zucchini that has light green stripes. This is my favorite variety to grow and it is suitable for containers too.
Zucchini Rampicate Tromboncino – Probably the most unusual zucchini you will grow in your garden. This is a large variety that needs staking. The fruit can be harvested young and eaten like regular zucchini or allowed to ripen and turn orange and eaten like butternut squash. I love this variety because it doesn't succumb to the squash vine borer as easily as others.
Read: How to Grow Squash & Zucchini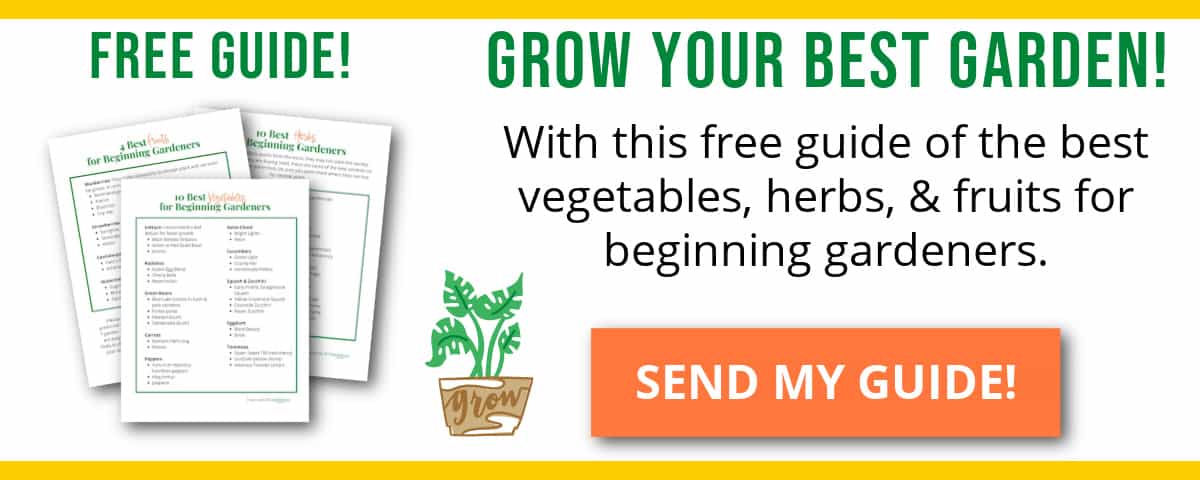 Heirloom Radishes
Everyone should try growing radishes. If you don't like the taste of them raw (I sure don't!) Try cooking them. While it may seem unusual, roasted or sauteed radishes are delicious. I even fooled my kids into trying them and they actually liked them cooked.
Radishes grow quickly and can be sown under other vegetables like squash to help with pest control. This also helps to save space in the garden.
French Breakfast – This radish variety is longer with deep red on top and white on the bottom. This is a good variety for hot, dry climates.
Cherry Belle – This is a mild, red radish with shorter tops. They grow quickly and are ready to be harvested in as few as 21 days.
White Icicle – These pure white radishes are shaped like a carrot with mild, firm roots that are best harvested young.
Easter Egg – This is actually a mix of heirloom types of different colors. It contains red, white, and purple varieties and oftentimes many colors in between. They hold up well if not harvested immediately.
Heirloom Lettuce
Homegrown lettuce is my favorite vegetable to grow. I grow it nearly year 'round. You can grow loose leaf lettuce almost anywhere and the varieties and colors you can grow at home are amazing.
Lettuce is also a great plant to add to your landscape if you need to grow food among your flower beds.
Black Seeded Simpson – A wonderful, very old heirloom loose-leaf lettuce that is very dependable. The light green, frilly leaves can be harvest at any time. You can cut the whole head or just a few leaves as needed. It tolerates heat well and is usually the last variety to bolt. A favorite in my garden.
Parris Island Cos – A romaine type lettuce that produces large heads of crisp lettuce. Perfect for Caesar salads.
Tom Thumb – A small butterhead variety. A head will make a large salad for one person or a side salad for two. Because it is compact, you can grow up to 4 heads per square foot.
Heirloom Cucumbers
Most cucumbers should be grown up a trellis. This keeps the fruit clean and helps you to spot pests quickly. Plus, it saves space in the garden. Cucumbers are easy for the beginning gardener to grow.
Lemon – A round, pale yellow cucumber that rarely turns bitter.
Boston Pickling – A very productive variety used for pickling.
Mexican Sour Gherkin – A tiny cucumber with a hint of lemon. Super productive vines will take over your garden if not trellised. Perfect for snacking, they can also be pickled. If space is an issue, you may want to skip this variety. The vines take over everything.
Cowpeas
While not a vegetable everyone grows, cowpeas are a great heirloom vegetable for beginners to grow. They are super easy and tolerate heat, humidity, and drought really well.
And cowpeas are really versatile. They can be eaten as a snap bean when young, eaten as a shelled pea a bit later, or allowed to dry on the vines to be harvested as a dried bean.
We grew the Pink Eye Purple Hull Variety for the first time last year and they were a huge hit. The vines were loaded with peas. And they were soooo good! We froze the extra and have been enjoying them all winter. Definitely a vegetable we will grow every year from now on.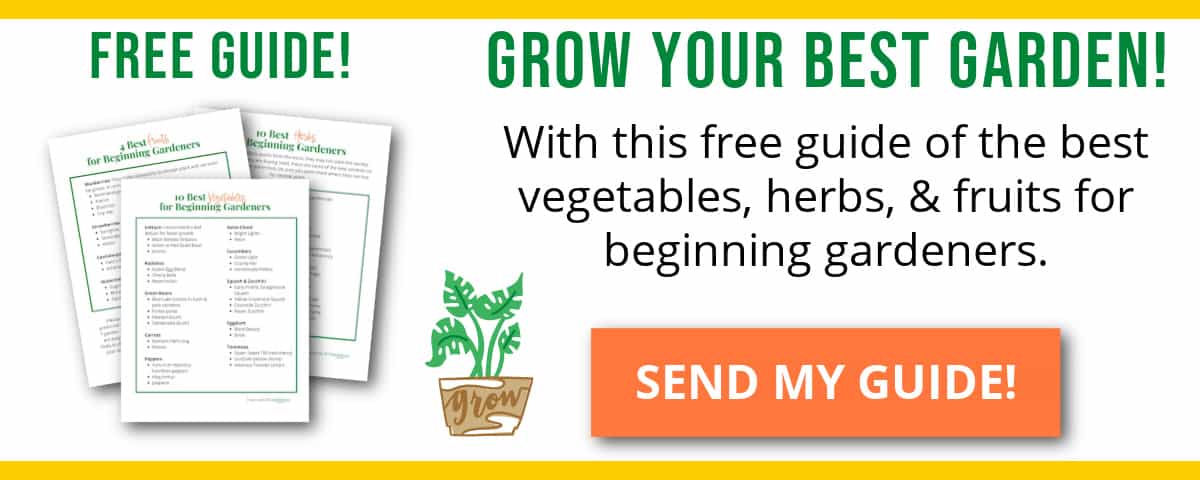 Best Heirloom Vegetables for Beginners
So while heirloom vegetables may not be for everyone, many varieties are suitable for beginning gardeners too. Baker's Creek Heirloom Seeds is a great place to purchase varieties that are heirlooms though you can find seeds and plants many other places as well.
If you've grown heirlooms before, I would love to know your favorite varieties.
Related Posts