When to Plant Tomatoes in North Carolina
Inside: Learn when to plant tomatoes in North Carolina – both when to start seeds indoors and when to transplant outdoors.
All winter long, I dream of that first ripe summer tomato. And every year, in my eagerness to taste fresh tomatoes, I almost always plant a tomato or two a little too early in my garden.
Some years this works out okay for me if we don't have cold temperatures too late in the spring. But other years, I've lost tomato plants to a late frost because I just couldn't wait any longer to get them in the ground.
But I want to save you from the heartache of waking up on a cold frosty morning and seeing your tomato plants black from the cold temperatures.
Knowing the best time to plant your tomato plants is vital to success. And various regions have different planting dates. If you are located in North Carolina, this post shares when to plant tomatoes in NC, whether you are starting them from seed indoors or transplanting them outside.
I'll also share some of the best tomato varieties to grow in North Carolina.
Affiliate Disclosure: Please note that some of the links in this article may be affiliate links and I may receive a small commission if you purchase something through a link. It will not change your cost. As an Amazon Associate, I earn from qualifying purchases. For more information, see my disclosures page.)
How Do I Know When to Plant Tomatoes in NC?
To know when to plant your tomato plants in NC, you first need to know your last expected frost date in the spring. North Carolina has a wide range of gardening zones, from 6a to 8a with a few spots on the coast 8b and a few high peaks in the mountains 5b.
So using your last spring frost date will be the best way to determine when to plant your tomato plants. Don't know your frost dates? This handy calculator will look it up for you based on your zip code.
You always want to wait until after your last expected frost to plant your tomato plants. Tomatoes are a warm-season crop and can't handle any amount of frost.
They also don't particularly enjoy cool soil temperatures, so it's not a bad idea to wait a week or two after your last frost to give the soil a chance to warm up a bit.
When to Start Tomatoes Indoors
To get a head start on growing tomatoes, it is a good idea to start tomatoes from seed indoors unless you plan on buying transplants from a local garden center.
Tomato seeds should be started a minimum of 6 weeks before your last frost, but I like to start mine about 2 months before my frost date.
Once you have found your last expected frost date (I explained how earlier in this post.) count back 6 to 8 weeks to find the perfect time to start your seeds.
We have an average last frost date around April 14 and my Granddaddy always started his tomato plants on Valentine's Day (February 14). Sow seed 1/4 inch deep in good quality potting soil or seed starting mix.
Keep the soil moist and the seeds should sprout within a week to 10 days. When starting tomatoes inside, you will definitely need to use grow lights to keep the tomato seedlings from getting leggy. See this post for more information on using grow lights.
The tomato seedlings need to be exposed to light for 12 to 14 hours each day to ensure optimal growth. Try to keep the lights 2 inches above the growing plants.
A week or two before it's time to transplant your tomato plants to the garden, be sure to harden them off properly so they are prepared for the outdoors and you avoid transplant shock.
When to Plant Tomatoes Outdoors
You must wait until all danger of frost has passed before planting tomato transplants in the vegetable garden. In most of NC this is early spring, but the western North Carolina counties may need to wait until early May.
For the best results when transplanting young plants to the garden, wait until the soil temperature is above 50 degrees. (You can test your soil temperature with an inexpensive soil thermometer.)
If the soil is too cold it may stunt the plant's growth. Tomatoes prefer a daytime temperature of 70-80 degrees and nighttime temperatures of 60-70 degrees. Unfortunately, this isn't always easy to obtain.
And despite what a lot of people believe, tomatoes don't like really high temperatures either. When the temperature rises above 85 or 90 degrees, the blossoms may start to fall off. And no tomato blossoms means no tomatoes.
However, if you keep the plants alive, they may start producing tomatoes again in late summer as the temperatures start to drop. Many people are still able to get a fall harvest of tomatoes if the insect pests and diseases don't wipe the plants out first.
Tomatoes can be planted directly in the garden, in containers, or even in straw bales. When choosing a location for your tomatoes, keep in mind that tomato plants need full sun, which means 12 to 14 hours of sunlight a day.
Tomatoes also like fertile, well-drained soil with a pH of 6.2 to 6.8. If you don't know your soil's pH, you can learn how to do a soil test here.
For more information on how to grow and harvest tomatoes, read this post.
​The Best Varieties of Tomatoes for North Carolina
In North Carolina, tomato varieties need to be able to handle our hot and humid conditions. While big heirloom varieties are popular right now, they can be difficult to grow in NC because of our hot summers.
While I love heirloom tomatoes just as much as anyone, beginning gardeners would do well to try a few hybrid varieties the first year or two. Many hybrid tomato cultivars are bred to be disease-resistant and the North Carolina humidity means fungal diseases are often a concern.
Because we often go long periods of time without rain, a crack-resistant variety of tomatoes can be a good option to consider also.
If you are just starting out growing a garden, I want you to have the best chance for success. And in the case of tomatoes, disease-resistant varieties are a great choice for the beginner.
A Quick Note About Determinate Versus Indeterminate Varieties
Tomato plants come in two types – determinate or indeterminate. Determinate tomatoes will produce a lot of fruit at one time over a period of a few weeks. This type is great for those who want to preserve a lot of tomatoes at one time.
Indeterminate tomatoes generally keep fruiting all season long. This also means the plants keep growing and growing. If you don't know whether you have an indeterminate or determinate variety, you should be able to do a quick Google search to find out.
Indeterminate types will need to be staked, caged, or trellised to prevent them from sprawling all over the ground. However, I prefer to tie up all my tomatoes to prevent problems like soil-borne diseases and damage from bugs and critters.
Best Cherry Tomato Varieties
Cherry tomatoes are well-suited to North Carolina temperatures. And when it gets too hot for some of the larger varieties, cherry types will keep right on producing, usually to the end of the growing season (mid to late October.)
These are some of my favorite varieties to grow.
Best Varieties of Paste Tomatoes for NC
Paste types are best for preserving, whether canning, freezing, or dehydrating. They have less moisture and seeds than slicing tomatoes or cherry types.
Paste tomatoes are also often used for salsa and are the best variety for making homemade sun-dried tomatoes.
These are often called Roma tomatoes in the store because that is the name of a popular variety.
Best Varieties of Slicing Tomatoes
As I mentioned earlier, big, beefy slicing tomatoes can sometimes be difficult to grow in North Carolina because of our summer heat. However, I've had good success with the 3 varieties below. The tomatoes aren't super large, but they do produce flavorful fruit in our climate.
Tomatoes Are Still the Most Popular Vegetable to Grow
Tomatoes are still the most popular vegetable for backyard gardeners to grow. With a long growing season, the North Carolina climate can produce some delicious tomatoes.
But the ideal time for planting tomatoes does depend on where in North Carolina you actually live. But planting tomatoes at the perfect time will help ensure you have a bountiful harvest of homegrown tomatoes.
Related Posts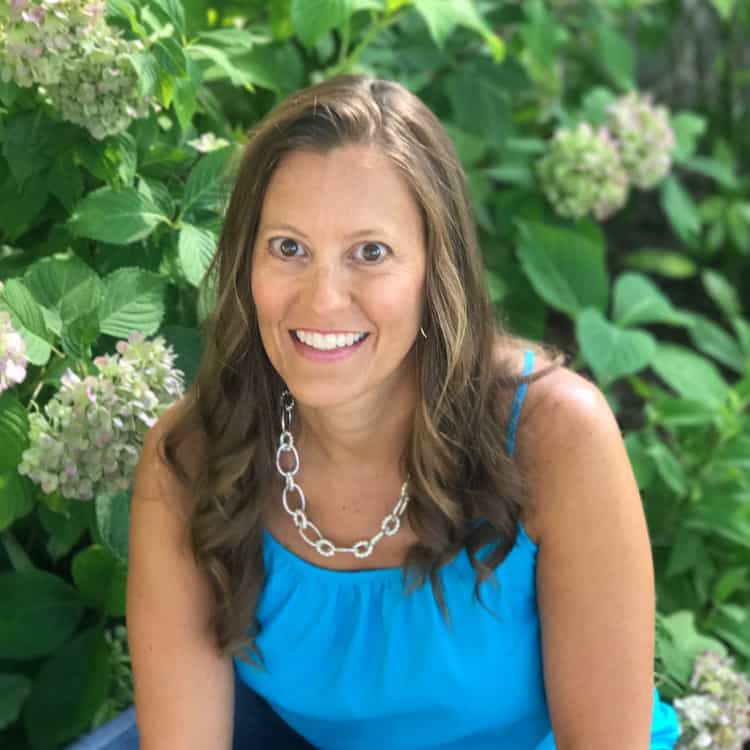 Meet Julie
I'm a farm girl born and bred in North Carolina. I've been growing a vegetable garden for over 20 years (and helping my Mom grow hers even longer). I've been raising chickens in my bathtub and backyard for 12+ years. I believe that homegrown food can be made simple. Let's get started.
I would love for you to pin this post to save it for later.