Preview: There are many different types of mulch suitable for use in a vegetable garden. This posts shares the pros and cons of each type to help you decide the best mulch for a vegetable garden.
With so many kinds of mulch in stores today, it can be difficult to choose what type to use in your vegetable garden. By sharing the pros and cons of each type, I hope you can more easily choose what type will work best for your garden.
(Please note that some of the links in this article may be affiliate links and I may receive a small commission if you purchase something through a link. It will not change your cost. As an Amazon Associate I earn from qualifying purchases. For more information, check out my disclosures page.)
Benefits of Using Mulch in Your Vegetable Garden
There are many benefits to using mulch in a vegetable garden. Most mulches help retain moisture, suppress weeds, and prevent erosion. Mulching your garden is a great thing to do while you prepare your garden for the winter. When planting your garden each season, it is best to keep the mulch about an inch from the stems of your vegetables. Putting mulch too close to the stems can cause the plants to rot, especially if you have a wet season.
What Kind of Mulch Should I Use?
So if you're wondering what kind of mulch to use in your vegetable garden, my answer is…it depends. Different types of mulch are better suited for different things and even different areas. Your mulch choice will also depend on what is available locally and what you can purchase for a reasonable price. Occasionally, you may even be able to find some items for free!
Newspaper
Newspaper is one of my favorite types of garden mulch. It is readily available, fairly cheap (maybe even free), and provides great weed control. Newspaper also disintegrates and can add nutrients to your soil. In places that I have used newspaper, I tend to find lots of earthworm activity.
Newspaper really works best as a under-layer to another type of mulch. Otherwise, it can be difficult to keep it from blowing away. However, by using newspapers first, and another type of mulch on top, your top layer doesn't have to be nearly as thick as if using the mulch alone. So using newspapers is a great money saver too!
Pine Needles
Pine needles are a decent mulch for the backyard garden. They are available most everywhere. One downfall to pine needles is that they can make your soil acidic. If using pine needles, you may want to regularly test your garden soil to be sure the pH is still in the good range.
Grass Clippings
Grass Clippings can be used as a garden mulch with a few caveats. First, be sure that no herbicides, pesticides, insecticides, or fertilizer has been used on the lawn. You also want to be sure that the grass has been cut frequently. If the grass has been allowed to grow too tall between cuttings, it will probably contain weed seeds which is most likely one of the reasons you want to use mulch to begin with!
Leaves
Leaves are an excellent mulch for your vegetable garden. They decompose fairly quickly and provide lots of nutrients back to the soil. As a bonus they are FREE! You are turning something you would normally throw away into a benefit to your garden. They will decompose much faster if they are chopped. Chopping them also prevents them from forming a thick mat that water won't penetrate. A word of caution…Don't use black walnut leaves exclusively. They contain a chemical that is toxic to your vegetables.
Compost
Many places recommend compost as a mulch. However, it really is not much different than garden soil at preventing weeds. I much prefer to use my compost to nourish my plants and top the compost with a different type of mulch.
Another downside to using compost as mulch in your vegetable garden is that it will not prevent weeds from germinating. As a matter of fact, the nutrient rich compost will almost certainly make any weed seeds that blow in germinate that much quicker. I recommend saving your compost for fertilizing your vegetables. But there is really nothing wrong with using compost as mulch if that's what you choose to use.
Pine Bark Mulch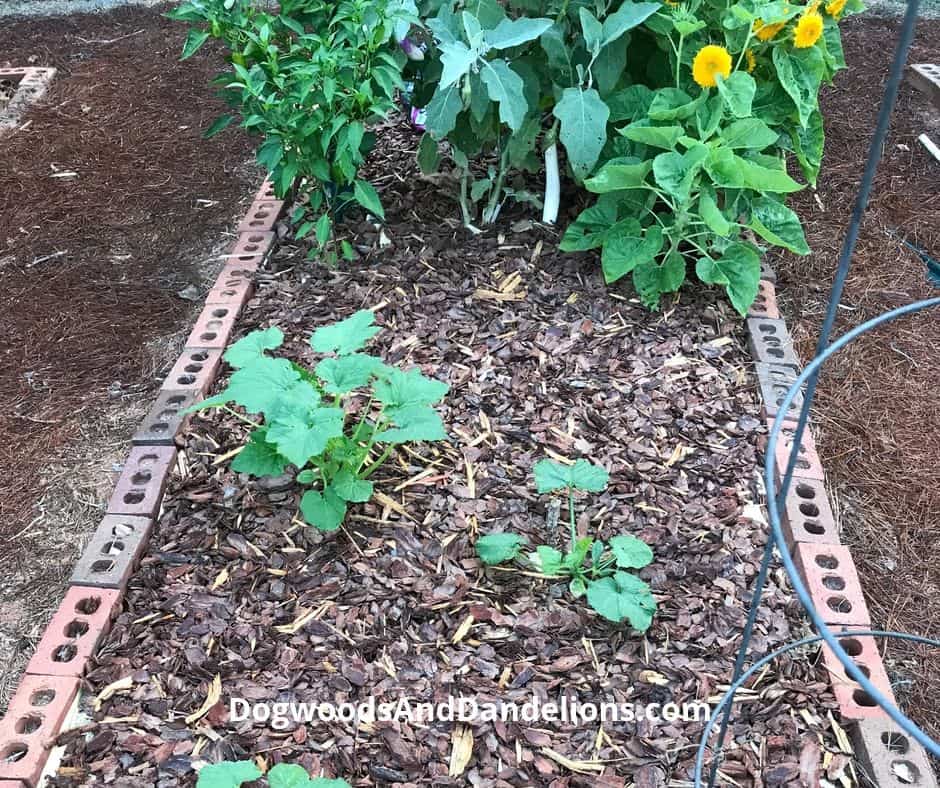 Pine bark mulch is a good mulch to use in the vegetable garden. It doesn't tend to take much nitrogen from the soil as it decomposes and it will provide nutrients to the soil as it breaks down. It is readily available and easy to put down. Pine bark mulch also provides great weed control.
The one downside to pine bark mulch is that it can be difficult to plant in, as you have to move it off the garden bed when seeding crops. However, it is really easy to rake off and put back on once your vegetable seeds have germinated.
Straw
Straw can make a useful mulch in the backyard garden. The biggest issue with using straw is that critters love to build nests out of the straw. So if you pile it on thick, keep an eye out for mice and voles who would love to overwinter in your garden. It is also a great mulch to use around strawberries to keep the dirt from splashing on the fruit.
Cardboard
Cardboard is a great mulch to use in the vegetable garden. It suppresses weeds, is inexpensive (or free, hello Amazon boxes?) and will decompose over time adding nutrients back to the soil. The biggest downside to cardboard is that it is very slippery to walk on, even with a layer of another type of mulch over top. You will also need to anchor the cardboard with something to keep it from blowing away. If you have any large rocks around, they work well to hold the cardboard down.
Black Plastic
I have used black plastic mulch in my garden for many years. It is still a mulch I recommend, especially if you are starting a new garden bed where they may be lots of weed seeds. I wrote two posts about using black plastic-Is Gardening With Black Plastic Right For You and How to Use Black Plastic In Your Garden. Check them out for the pros and cons of using black plastic in your vegetable garden.
Mulches I Don't Recommend For A Vegetable Garden
Sawdust
Many places will recommend sawdust but it is on my list of mulches I don't recommend. While you can usually get it for free, it contains a lot of carbon and only a little nitrogen. In the process of decomposing, sawdust will actually take nitrogen FROM your soil, instead of adding to it. However, sawdust is an acceptable choice for walkways and paths.
Hay
I'm not sure why so many people recommend hay for mulch. Hay is one of our main crops here on the farm. And hay is great to feed cows and horses. However, most hay is full of weed seeds. When you use hay as mulch, you are adding those weeds and grass seeds to your garden. You will likely have grass sprouting for years after using hay.
Landscape Fabric
Landscape fabric is probably the worst choice for mulching a vegetable garden. First, it deteriorates rapidly unless you top it with a layer of another type of mulch. Landscape fabric doesn't help improve the soil at all. As the landscape fabric starts to decay, it will tear into little pieces which you will have hard time collecting. You will probably be finding the fabric in your garden for years to come.
Finally, while landscape fabric keeps weeds from germinating under it, weed seeds will still blow in. And they seem to have no trouble sprouting on top of the fabric and pushing their roots through it. Plus, landscape fabric isn't cheap. Save your money. Newspapers are far less expensive and work so much better.
What I Use in My Vegetable Garden
For several years, I used black plastic mulch in my vegetable garden after I moved my garden to an area that was overrun by crabgrass. It worked great at suppressing the crabgrass.
And I might still be using it, except for the fact that my local store changed to a different variety of black plastic. The new stuff was absolutely terrible. Usually I get 2 years from each piece. I actually got 5 years out of the plastic around my strawberries! I put down the new plastic in March of this year and by June it was already shredding. (And yes, it was the same thickness, just a different brand.)
So I had to rip up the plastic (and pick up all the little pieces!!!). It is difficult to put plastic down around already established plants, so I decided to use newspaper and top it with pine bark mulch.
This is definitely more pleasing to the eye than the plastic, however, I don't think this would have kept the crabgrass from coming back. But since the plastic was down for about 4 years, I haven't seen much crabgrass in my garden. Going forward, this is what I plan to use. (However, if I create any new garden beds, I'll be looking for my old brand of black plastic!)
Choosing The Best Mulch For Your Vegetable Garden
So choosing the best type of mulch for your vegetable garden is really a matter of personal preference. It partly depends on cost and what you are able to locate in your area, as well as what you hope to accomplish by using the mulch. If you have any questions on what type of mulch to use, leave a comment below.
Related Posts: