Homemade Insect Repellent Spray
This easy homemade insect repellent spray uses essential oils to help repel bugs.
When the warm weather arrives, so do the bugs. And while my family loves spending lots of time outdoors gardening, farming, or just camping, we don't enjoy getting bitten by the bugs.
But I also don't like slathering my body with who-knows-what chemicals (usually DEET) in commercial bug sprays. While many say DEET is safe, I would rather not use it.
So I set about researching homemade bug spray options that would repel the bugs, keep my family safe, and still smell great.
Affiliate Disclosure: Please note that some of the links in this article may be affiliate links and I may receive a small commission if you purchase something through a link. It will not change your cost. As an Amazon Associate, I earn from qualifying purchases. For more information, see my disclosures page.)
Ingredients to Make Natural Homemade Bug Spray
Surprisingly, you don't need a ton of ingredients to make homemade insect repellent. You may have many of the ingredients in your cabinet already.
The distilled water, witch hazel, and rubbing alcohol should be easy to locate at your local Walmart. My local store also carries the vegetable glycerin too. However, I've included Amazon links if you prefer to shop online.
Essential Oils for Homemade Bug Repellent
There are many essential oils that can help repel insects. They include lavender, citronella, thyme, geranium, cedarwood, eucalyptus, tea tree, basil, clove, cinnamon, lemon eucalyptus, peppermint, and rosemary. Quite the list. And there are many others.
Some of the essential oils are safe to be used on kids. Others are not. So if you choose your own blend, be sure to research the safety of each oil, especially if the spray will be used on children.
And what essential oils you decide to use is ultimately up to you. However, to prevent overwhelm, I'll share my favorite blend of essential oils (It's safe to use on kids 3 and older.) to repel bugs and an option if you prefer to purchase a pre-made blend.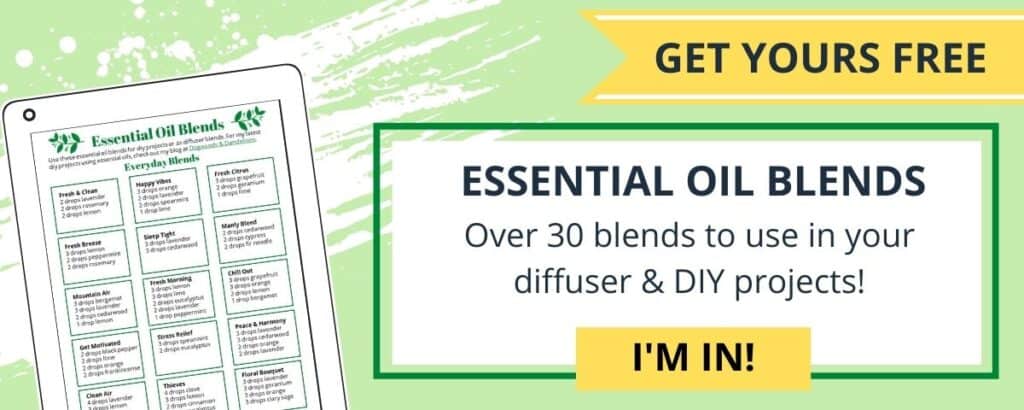 How to Make Homemade Insect Repellent Spray
This homemade insect repellent spray is so easy to make. (A printable copy is at the bottom of the post.)
In a 4 oz. bottle, add:
2 oz. witch hazel
1 Tablespoon rubbing alcohol or vodka
1 teaspoon vegetable glycerin, optional
50 drops lemon eucalyptus essential oil
15 drops of lavender essential oil
15 drops cedarwood essential oil
15 drops bourbon geranium essential oil (aka rose geranium)
distilled water to fill the bottle (a little less than 2 oz.)
Shake well. Apply to skin and clothes every 2 hours or as needed.
You can purchase all the essential oils above from my favorite essential oil company, Plant Therapy. They offer free shipping on any size order. (You can also purchase many of them from Amazon.)
If you don't want to purchase individual essential oils, Plant Therapy also sells a Nature Shield blend and a kid-safe Shield Me blend. Add 72 drops of either blend to the recipe above, omitting all the other essential oils.
Homemade bug spray will not be as long-lasting as bug spray containing DEET, so it will need to be reapplied every couple of hours. However, I think the trade-off is worth it. Knowing what I'm putting on my skin (as well as my kids' skin) is worth the time it takes to reapply.
A Few Do's & Don'ts for Using Homemade Insect Repellent Spray
Always test the homemade insect repellent on a small area first to test for allergic reactions.
Don't spray directly on your face.
Do reapply every 2 hours for the best protection.
Always shake bug spray well before applying.
Homemade Insect Repellent Spray
Keyword:
homemade insect repellent spray, homemade bug spray
Ingredients
2

oz.

witch hazel

1

Tablespoon

rubbing alcohol or vodka

1

teaspoon

vegetable glycerin, optional

50

drops

lemon eucalyptus

15

drops

lavender

15

drops

cedarwood

15

drops

bourbon geranium, aka rose geranium

1 1/2 -2

oz.

distilled water
Instructions
Add all ingredients except distilled water to a 4 oz. spray bottle. Top off the bottle with enough distilled water to fill it, while still leaving room for the sprayer. Put the sprayer on. Shake well.

Spray on skin and clothes to repel insects. Reapply every 2 hours for best protection.
Recipe Notes
If you don't want to purchase the individual essential oils, you can purchase Nature Shield or Shield Me (kid-safe) essential oils blends from Plant Therapy. Use 72 drops of either blend in place of the essential oils listed above.
Related Posts
Homemade After Sun Spray – Spent too much time in the sun? This spray will cool you off and help reduce redness and swelling from sunburn.
Easy DIY Sugar Scrub – This easy sugar scrub is great for removing gardening dirt from your hands. It also provides gentle exfoliation for your skin.
Homemade Lip Balm – Don't forget to apply your homemade lip balm before you head outdoors.