Preview: This homemade after sun spray is the perfect way to soothe sunburned skin. It only takes 4 ingredients to provide instant sun burn relief.
Whether you are a religious sun screen user or not, sometimes, even the most cautious of us can still get too much sun. Whether from a day at the beach, a day spent doing yard work, or a surprise event that was held outdoors, a sunburn isn't fun.
The hot skin, painful burn, and itchiness that often accompanies a sunburn can cause the best of us to be grumpy. When you're in pain, it's hard to be happy.
So I set out on a quest to find some relief for sunburned skin. After doing some research, I came across multiple recipes for after sun spray. My family tried out several, and I modified them to suit our needs. Many recipes call for large quantities of aloe vera gel.
And while I love aloe vera, none of us enjoys the stickiness that often comes with it. So I kept the amount small in this recipe. You may increase it to 2 Tablespoons if the stickiness doesn't bother you.
Affiliate Disclosure: Please note that some of the links in this article may be affiliate links and I may receive a small commission if you purchase something through a link. It will not change your cost. As an Amazon Associate, I earn from qualifying purchases. For more information, see my disclosures page.)
Our Experience with the After Sun Spray
I was really surprised at how well this homemade after sun spray works. My oldest son doesn't like to use sunscreen. (I know. He should wear it all the time, but he is old enough to make those decisions now.)
Recently, on a day at the beach, he definitely got too much sun. By evening, his face was beet red. Several times, over the course of the evening, he misted his face with this spray. By the next morning, all the pain was gone, and he was noticeably less red.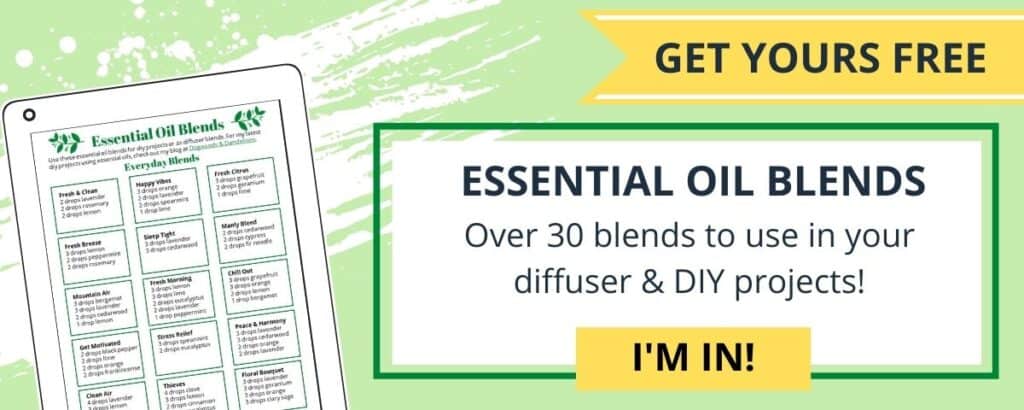 Ingredients for Homemade After Sun Spray
This after sun spray only takes 4 ingredients, most of which you can find on Amazon or your local drugstore.
Witch hazel is a natural anti-inflammatory and is used to calm irritated skin and reduce redness. It also helps relieve the itching as the sunburn heals. An alcohol-free version is best but you can use regular witch hazel if it is more in line with your budget. (Most only contain about 14% alcohol.)
The aloe vera gel is used to soothe the sunburn and provide moisture to dry, itchy skin. Lavender essential oil has antiseptic and anti-inflammatory properties while the peppermint essential oil provides cooling relief to the heat of a burn.
Both essential oils have been shown to reduce pain. As always, if you are severely sunburned, you should consult your doctor before using this or any other product, as I am not a medical professional.
This recipe is great even if you don't have sunburned skin. When you come in hot and sweaty from an outdoor adventure, this spray provides cooling relief to your hot skin instantly.
After Sun Spray
This after sun spray is the perfect way to soothe your sun burned skin.
Keyword:
after sun spray, essential oils
Ingredients
1/2

cup

witch hazel

1

Tablespoon

aloe vera gel

15

drops

lavender essential oil

15

drops

peppermint essential oil
Instructions
Mix witch hazel and aloe vera gel in a small container with a pour spout. It is OK if the aloe vera gel isn't totally dissolved. Pour into a spray bottle. Add lavender and peppermint essential oils. Shake well to ensure aloe vera gel mixes thoroughly with the witch hazel. Spray on dry, sunburned skin for instant relief.
Recipe Notes
Because some bottles vary slightly in size, you may not be able to get the entire mixture in a 4 oz. bottle with room to shake the mixture. You can cut down the amount of witch hazel slightly without affecting the recipe.
With this homemade after sun spray on hand, you can be reassured that even if you do get too much sun, you can quickly ease the pain and redness and feel better much sooner.
Other Easy DIY Projects
This homemade hand salve is perfect for hardworking hands.
This easy sugar scrub is so much cheaper than store-bought kinds and will remove all kinds of dirt and grime from your hands while leaving them soft and smooth.
This simple lip balm will keep your lips from drying out on those hot summer days.
Before you go outdoors, spray this homemade insect repellent on your skin and clothes to keep the bugs away.