Best Vegetables for an Edible Landscape
When most people think of a garden, they usually imagine either a flower garden, a raised bed garden, or a traditional vegetable garden.
But what if you could add vegetables to your existing landscape? What if you could grow an edible garden that not only contains ornamental plants but also vegetables right in your own yard?
Incorporating edibles into your garden design can have a variety of benefits, from saving you money on groceries to helping the environment. Keep reading to learn more about why you should consider incorporating an edible landscape into your garden design.
Affiliate Disclosure: Please note that some of the links in this article may be affiliate links and I may receive a small commission if you purchase something through a link. It will not change your cost. As an Amazon Associate, I earn from qualifying purchases. For more information, see my disclosures page.)
What is an Edible Landscape
Edible landscaping is the use of plants for both aesthetic and culinary purposes. An edible landscape is a garden designed to incorporate edible plants into the existing garden space. This is a particularly important concept as homeowners' yards are becoming smaller and smaller.
Edible gardens are becoming increasingly popular because of the recent events in the last few years along with grocery shortages.
But many people don't have the ability to grow other types of gardens whether they don't have the space or the homeowner's association forbids it. You can often grow many of these vegetables in your front yard without anyone ever complaining.
And incorporating vegetables into your landscape is a great way to increase your food production without spending much time building or tending a traditional row garden.
Benefits of Incorporating Vegetables Into Your Landscape
There are many benefits to growing an edible landscape. Vegetables can be a great addition to your current gardens. They provide nutrients, flavor, and texture to the garden. But there are many other benefits you may not have considered.
Edible Landscapes are Beautiful
Edible landscapes are beautiful and can add interest to your yard. There are many beautiful vegetables that you can grow.
From red scarlet runner beans that attract hummingbirds to the gorgeous purple flowers on eggplants. Bright red, yellow, and orange peppers can add color to the garden while many different types of lettuce make a great edging for a flower border.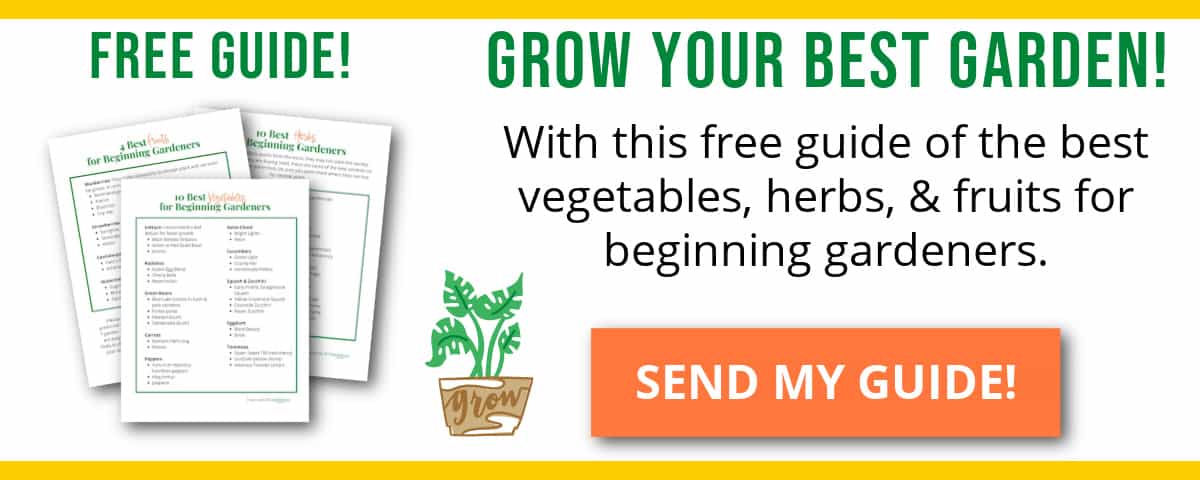 Provide Food for Your Family
Edible landscapes can provide fresh, nutritious food for you and your family. With food shortages and recalled vegetables appearing almost daily, having some food that you have control over can be a lifesaver.
And picking vegetables from your garden means you are consuming the freshest possible produce.
Edible landscapes can help you save money on groceries too. While you likely can't grow all your vegetables among your landscape, you can grow a wide variety of vegetables amid flowers and shrubs that will cut the amount of money you spend at the grocery store.
The key to successfully growing these vegetables is choosing the right plants to mix with your landscape plants. (We will discuss this more in a minute.)
Get Children Interested in Gardening
Growing vegetables amid your flowers is a fun way to get kids interested in gardening. You don't have to commit to having more area to weed and water but your children can still learn valuable life lessons while growing something to eat.
Provide Habitats for Pollinators
And finally, vegetables provide a habitat for pollinators and other beneficial insects. Actually, the flowers will even help attract the bees so may enjoy an even more successful garden because of the additional pollinators.
And you may struggle less with predatory bugs because the flowers may confuse the pests so they can't locate the vegetables you are growing.
Get Some Exercise & De-Stress
Gardening is a great way to get some exercise and spend time outdoors. It can be a very active hobby and it is a great way to get some fresh air and sunshine.
Additionally, gardening is a great way to relax and de-stress. It can be very calming to spend time in your garden, surrounded by plants and flowers.
The Enviromental Benefits to Edible Landscaping
Gardening also has environmental benefits. It helps reduce greenhouse gas emissions, and it encourages people to consume locally-grown produce instead of produce that has been shipped long distances.
Best Vegetables to Grow in an Edible Landscape
While there are many, many vegetables that will do well in an edible landscape, there are some that will perform much better than others.
Leafy Greens
Lettuce comes in many shades of green and red. It is super easy to grow and you can use leaf lettuce to edge the border of a garden.
Read more: How to Grow Lettuce
Swiss chard is another leafy green that looks beautiful in the landscape. The and the 'Bright Lights' variety has yellow, red, and green stems that make a great backdrop for low-growing flowers.
Eggplant
While not the most popular vegetable, eggplant has beautiful purple blossoms with gray-green foliage. The fruits range from lavender to deep purple and there are even white varieties. They provide a pop of color in your landscape.
Read more: How to Grow Eggplant
Peppers
Bell peppers (also known as sweet peppers) and hot peppers make great additions to a landscape. The peppers themselves are beautiful as they are turning from green to red, yellow, orange, or purple and the dark green leaves provide contrast to the lighter green foliage of some flowers.
Read more: How to Grow Peppers
Beans
There are many varieties of beans that look great in a landscape. You can grow pole beans up a trellis near the back of your garden or bush beans can grow nearer to the front.
With many beans having a variety of flower colors, you can even choose a color that will complement your other flowers and shrubs.
Scarlett runner beans have pretty red flowers while the variety Monte Gusto have yellow beans that provide a pop of color in the garden.
Read more: How to Grow Green Beans
Tomatoes
Tomatoes, one of the most popular vegetables to grow, can be a welcome addition to the landscape. Cherry tomatoes come in a variety of colors from yellow, to red, to purple and are easy to grow.
But don't think you can't grow full-size tomatoes in the edible garden either. A tomato plant isn't difficult to grow and you could grow an entire salsa garden right in your flower beds without anyone batting an eye.
Many varieties will need to be staked or trellised, but you'll find the flavor worth the extra work. Nothing compares to homegrown tomatoes. That's why they are one of the best vegetables for an edible landscape.
Read more: How to Grow Tomatoes
Herbs
It's super easy to tuck a few herbs among your flowers. Oregano, parsley, dill, basil, and chives are all easily incorporated into an existing landscape bed.
How Do You Design an Edible Landscape?
When it comes to edible landscapes, there are a few things to consider before getting started. The first step is to decide what you want to eat and where to plant it. You'll also need to think about the layout of your garden and choose plants that will thrive in your climate and soil type.
Can You Incorporate Vegetables Into an Existing Bed?
If you already have an existing flower or shrub bed, you may just want to incorporate a few vegetables into that area.
You don't want to plant vegetables anywhere near where lawn chemicals will be sprayed so choose an area that doesn't get sprayed with weed killers or other harmful lawn fertilizers that aren't meant for vegetable gardens.
You also need to consider the amount of sunlight the area receives. Most vegetables will need 6+ hours of sunlight each day to produce a satisfactory harvest.
But if you already have a garden bed that receives full sun, adding a few vegetables to that bed will be relatively easy.
Don't have a lot of sun in your flower beds? This list of vegetables will grow well in partial shade.
Grow Vegetables in Containers Around Your Deck or Patio
You can also grow a vegetable garden in containers around your deck or patio. This is a great way to test out gardening to see if it is right for you. The investment is minimal and if you don't enjoy it, you can always use the planters for flowers next year.
Decide What You Want to Grow
Next, decide what you want to grow. Always start by growing vegetables that you like to eat. There is no point in growing spinach if no one in your household will eat it.
If you only have a few spots in your landscape for edibles, choose easy-to-grow vegetables such as lettuce, radishes, or tomatoes.
Read more: 10 Best Vegetables for Beginners to Grow
And don't forget about edible flowers. Flowers such as pansies, nasturtiums, and daylilies are another option for growing your own food provided they aren't sprayed with chemicals.
Choose Vegetables That Will Grow Well in Your Climate
Not all plants grow well in every climate, so it's important to choose plants that will thrive in your area. Once you have your list of vegetables you would like to grow, do some research to ensure they can grow well in your area.
If you're not sure which plants are best for your region, ask your local nursery for advice. Many times, they can offer suggestions of varieties that will do well in your location.
Books to Help You Learn More About Edible Landscaping
If you want to learn more about the best vegetables for an edible landscape, I have two books I highly recommend.
The Foodscape Revolution
First, The Foodscape Revolution by Brie Arthur, discusses ways to use foodscaping to integrate edibles into the traditional ornamental garden. She has great information about how to strike a happy medium between the needs of people who want to grow food and the desire for a tidy landscape that is often required by a homeowner's association.
The Foodscape Revolution also explains how to plant the ornamental framework (trees and shrubs) and then add the edibles afterward. This is especially important for those who are starting a new garden bed that you plan to add edible vegetables later.
Ms. Arthur also talks about dividing your landscape into zones based on their location from your house and the percentage of edibles to grow in each area.
I can't recommend this book highly enough if you are hoping to transform your yard into an edible garden.
Edible Landscaping
The other book I recommend is Rosalind Creasy's Edible Landscaping. The subtitle says it all…"Now You Can Have Your Gorgeous Garden and Eat It Too!"
She shares lots of pictures of how she transformed her front lawn from grass and trees to her first trial garden in about 100 days. The difference is amazing.
The book is a comprehensive book that covers everything from design principles, to ground covers, to edibles that smell good. With lots of pictures, you are sure to get some great ideas for your own edible vegetable garden.
Summary
Growing edible vegetables in your landscape is a great way to provide food for your family for those who have only a small space to garden. Tucking a few vegetables into existing garden beds makes growing a garden much easier than tending a traditional row garden.
Related Posts