This lightweight DIY bath & body oil is non-greasy and perfect to moisturize your skin for the summer. With only 4 ingredients it is the easiest DIY ever.
Spending lots of time outdoors is one of my favorite things about summer. Whether I'm working in the garden, cutting the grass, or just playing outside with the boys, I LOVE summer.
However lots of sun and sand can leave my skin dry. I'm not a fan of thick, heavy lotions in the summer though. So I created a summer bath & body oil that goes on much lighter than my DIY whipped body butter that I use in the winter.
I know what you are thinking…Oil? On my skin? In the summertime? Are you crazy? You'll just have to trust me on this one. This body oil is light and surprisingly non-greasy. And it only requires 3 ingredients plus essential oils which are totally optional. You may even have all the ingredients in your kitchen right now.
This is the easiest DIY ever! Much like my lip balm, lotion bar, and other DIY projects, this bath & body oil would make a great gift for a loved one. (Hint: Mom would love it for Mother's Day!)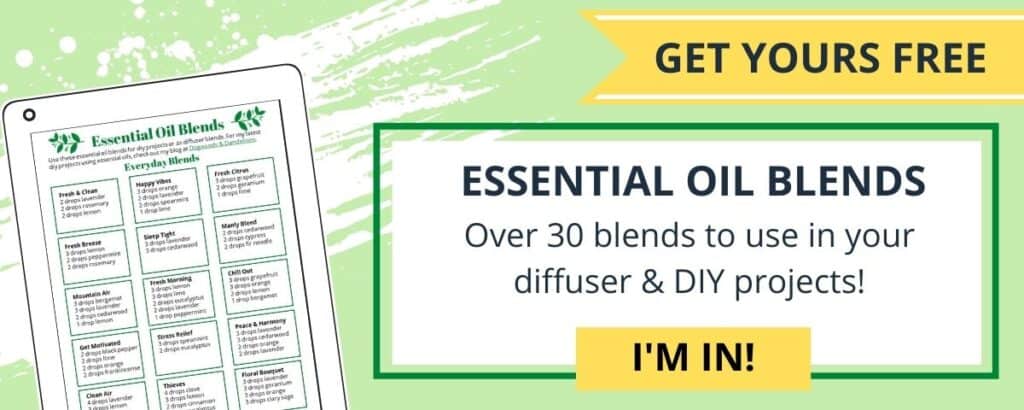 (Please note that some of the links in this article may be affiliate links and I may receive a small commission if you purchase something through a link. It will not change your cost. As an Amazon Associate, I earn from qualifying purchases. For more information, check out my disclosures page.)
Why Use These Oils?
I chose these oils for various reasons but they all make wonderful moisturizers. Grapeseed oil is a very light, dry oil. It is high in Vitamin E so it provides antioxidants for your skin. It also may help control acne if used on the face.
Avocado oil is very nourishing. It can penetrate to the second layer of your skin to provide deep moisture. It has been shown to help with psoriasis. Avocado oil can also help increase the collagen in your skin and several studies have found it can even help protect your skin from the damaging rays of the sun.
Sunflower oil has been shown to reduce premature aging. It can also help control acne, just like grapeseed oil. Sunflower oil can also help with skin rejuvination. It is the greasiest of the three oils, that is why we are using it in conjuction with the other two oils.
Of course, you can substitute other oils if you choose. Olive oil will cause the bath & body oil to be a bit heavier and greasier. If you use coconut oil, you will need to use fractionated coconut oil which is liquid at room temperature.
I find coconut oil to take a bit longer to soak into my skin, but feel free to experiment. You can easily mix up a smaller amount with various oils to see what combinations you like best.
This would be a great project to have the kids help with. Even the youngest can mix the oils together. (I wouldn't allow young children to add the essential oils though.)
How To Make Bath & Body Oil
Ingredients:
Directions:
Combine all ingredients in a measuring cup or bottle. Stir or shake to combine. Pour into an 8 oz. bottle or two 4 oz. bottles, like I did. I got my bottles from Specialty Bottle Company (not an affiliate link) but Amazon has these 8 oz. bottles or these 4 oz. bottles that should work just fine.
If you would like to make two different scents, pour the mixture into two 4 oz. bottles and add 10 drops of essential oil to each bottle. Shake well to distribute the essential oils.
Apply to your body after showering or add a small amount to a hot bath. This could also be used as a massage oil.
Essential Oils To Try In Your Bath & Body Oil
There are many combinations of essential oils you can use for this summer bath and body oil. Here are a few of my favorites.
peppermint-Great for a cooling experience after being out in the sun
lavender-Good to help you calm down and sleep at night
I've also got a free printable with over 30 essential oil blends. You can grab your copy below. As you can see, this is a super easy DIY. Would you be willing to try a bath & body oil for the summer?